16th Annual Military Appreciation Day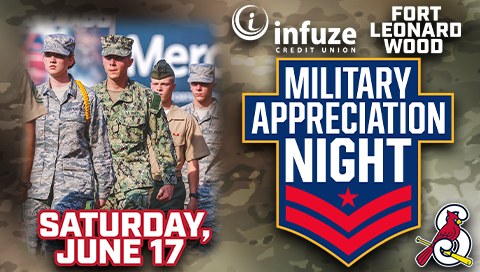 John Fitzgerald Kennedy said, "As we express our gratitude, we must never forget that the highest appreciation is not to utter words but to live by them." At Infuze Credit Union, we do just that. To pay tribute to those who serve, Infuze Credit Union proudly hosts a Military Appreciation Day each year at the
Springfield Cardinals Stadium
. Since its inception, Infuze Credit Union has contributed more than $300,000 to honor America's heroes that serve in the United States Military.
Event: 16th Annual Military Appreciation Day
Date: June 17, 2023
Time: 5:35 pm Gates open | 5:55 pm Pre-game ceremonies including first pitches and Oath of Enlistment | 6:35 pm Game starts
Fireworks display immediately following the game
FREE Tickets Available for All Military Personnel
Tickets are available for all active-duty military, retirees, veterans, Guard members, reservists, and their dependents at the Fort Leonard Wood and Waynesville branches. A free Springfield Cardinals hat and hotdog voucher accompanies each ticket. Tickets may be picked up during regular business hours, Monday through Friday at Infuze Credit Union which is conveniently located on Post at 5000 Illinois Ave, BLDG 494, Fort Leonard Wood and located at 1300 Historic 66 W., Waynesville. A military ID must be presented at the time of pick up.
Oath of Enlistment
Before the game, new recruits take the Oath of Enlistment. The future Soldiers line up on the third-base line and receive a standing ovation from both the crowd and the baseball players after enlisting in the U.S. Army. The pledge is made by each member of the United States Military and is a confirmation of their duty to defend the Constitution.
The 399th Army Band & Joint Services Color Guard
The 399th Army Band performs the national anthem in the outfield and immediately following, the Joint Services Color Guard presents the nation's colors. The Color Guard members represent our United States Army, Marine Corps, Navy, Air Force and Coast Guard. During the 7th inning stretch, "God Bless America" is performed.
More Information