Working To Build a Stronger Community
Whether it's the annual
Military Appreciation Day
, or
Marion "Dale" Summerford Memorial Scholarship
, Infuze CU strives to be a true community partner through both sponsorships and volunteering our experience and skills to help local organizations. In 2022, we invested over $35,000 in local sponsorships and charities to better our communities. Some of the events and organizations we've been a part of include:
Waynesville Little Heroes Playground
Sustainable Ozarks Partnership
Laclede County Fair
Relay for Life
Waynesville Lifecare Center Yearly Christmas Gift Delivery & Christmas Caroling
Operation Christmas Child
Waynesville-St. Robert Chamber Chili Cookoff
Infuze Credit Union, together with our employees, members, and community partners is focused on helping our friends and neighbors thrive. For questions about contributions, please contact us at
marketing@infuzecu.org
.
Visit an Infuze CU branch on a Friday, and you'll notice that our employees are wearing blue jeans. That's because each month they're donating $10 per month not just for the privilege to dress casually, but to raise funds for local charities! We raise approximately $9,000 annually to donate to charities throughout our field of membership.
  2023 Jeans Charity Recipients
2023 Events Schedule with more to come!
Infuze representatives are regularly at AUSA meetings, Committee of Fifty meetings, Phelps for the Fort meetings, Lebanon, Rolla and Waynesville Chamber Luncheons, and Tell your Story Thursday Coffee. 
Ongoing Donation Drives At Your Local Branch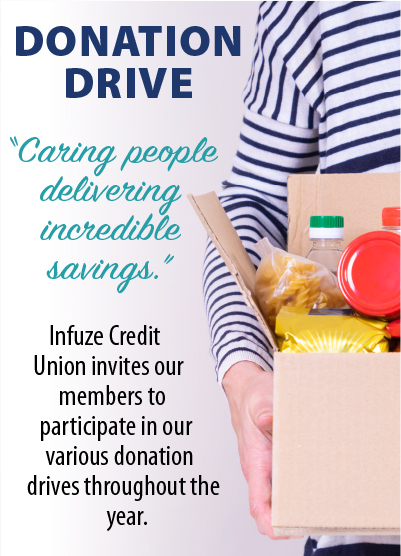 In partnership with local charities and organizations, each Infuze CU branch is hosting a donation drive to benefit their community.  Visit your local branch to learn more.
January-March:   Feeding Our Local Children
During these months our branches will be collecting donations for local food programs centered around feeding children.
- Rolla:  Friday Backpack with Hope Alliance of Missouri
- Waynesville & Fort Leonard Wood: Snack in a Pack
- Lebanon:  Shepherd's Pack and Conway School District Food Closet
- Osage: Osage School Food Closet

April-May:   PB&J Drive
While our other branches continue their current donations, Waynesville and Fort Leonard Wood will switch gears to focus on a "PB&J Drive" that provides food to students during the summer break months.


- Waynesville & Fort Leonard Wood:

GivingTuesdayMilitary's 3rd annual PB&J Drive

May-August:  Hygiene and Basics 
Basic Needs like hygiene items, socks, underwear, and more will be collected for local organizations. 
- Rolla:
- Waynesville & Fort Leonard Wood:
- Lebanon:
- Osage:
September-October:   Warm Clothes Drive
Winter winds are coming!!  Bring the coats, gloves, scarves, warm socks, sweaters, and hand warmers!
- Rolla:
- Waynesville & Fort Leonard Wood:
- Lebanon:
- Osage:
November-December:   Holiday Cheer! Toy Drive
Infuze CU locations will collect unopened toys and gifts to provide holiday joy to local families.
- Rolla:
- Waynesville & Fort Leonard Wood:
- Lebanon:
- Osage:
Digital Advertising Campaign Competition
The Infuze CU Marketing team recently collaborated with the 
Waynesville Career Center to host a design contest with Ms. Donna Groves' Advertising students. They worked hard to produce advertising materials for our new inTune Club youth account campaign. After
several rounds of drafts,
Jynx Camplejohn
 is our winner and their graphics will be used for in-house campaigns and social media. We contributed $500 to the advertising class to help purchase materials, supplies, or whatever is needed to help them succeed.